Wherever you go in the world you always have to do check off runs, so the company can see you're competent as a guide. After a few training trips I was signed off for the South Fork and was working the next day. However I wanted to be on the Middle Fork of the American river.
The first commercial trip you do on a new river is always an exciting and slightly nerve racking at the same time. You want everything to go perfectly for the guests. My top tip is don't tell them that its your first commercial trip, it never goes down well, even if you're the best guide in the world. Maybe tell them at the end!
The next month was busy and the rare days I had off would be spent doing training trips on the Middle Fork of the American, to get signed off to work on that river. The South Fork of the American River is fun for sure, however the Middle fork is a fantastic river to be on and guide on. I was working hard to get checked off.
Finally the day for my check off run came. It is always slightly daunting, but I felt confident. I had one small hiccup involving a hole and me getting ever so slightly launched…. okay maybe a big launch, but it was my own fault for not holding on! Everything else went smoothly and I was checked off…. as easy as that.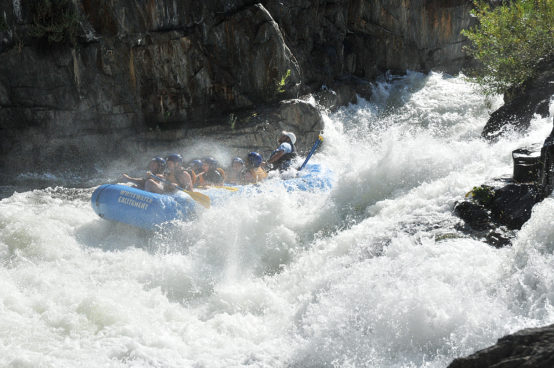 The Middle Fork
Is for sure a fantastic class 4 river. It feels remote and a lot more scenic than the South fork. Steeper canyon walls also means it's got some fantastic rapids. It's split into 3 sections. There is a section of fun class 3/4 to start, and then the middle section, which is a nice scenic float and where we stop for lunch. This is followed by another section of class 3/4. There are lots of super fun rapids on the stretch of river, some splashier and others are more technical. There are definitely two rapids that really stand out for me though, which are:
1) Tunnel chute
This is close to being one of my favourite rapids to guide on. You start off by crashing through a large wave (Last Chance), before moving right to enter the chute. Its get's pretty narrow in there, so if you're not careful you can resemble a pinball (might of happened once). However, when you get the line right it's a pretty cool rapid. Hotshots Imaging takes pictures on the way down, to capture the terror… I mean enjoyment! Once at the bottom, you go through the tunnel. I still find it incredible that all of this was man made in the late 1800's during the gold rush.
2) Ruck – a – Chucky
After going through the first class 4 after lunch called Chunder (an 8ft waterfall), it's time to pull over and the guests to portage the 25ft class 5+/6 waterfall. When you are training and first get signed off, someone needs to push your boat and you need to position yourself on a rock in the middle of the river. Ready to collect it wherever it ends up.
To start off, this was certainly fine by me. The thought of running it certainly made me nervous. There are so many rocks that if you got it wrong it could end pretty badly. However, the more I saw it the more it became enticing. I started R2ing it with other guides and before I knew it I was running it. The first run solo is definitely a little scary. In fact, before every run I get slightly nervous, but it's so worth it. We regroup with the guest's at the bottom, then it's straight on with more class four rapids, all super fun.
Last year I never got to raft the Merced or North Fork with Whitewater Excitement. I missed the snowmelt. However, with the fantastic snow pack this year, I think I will have a better chance. I can tell you that having kayaked the North Fork it's a fantastic river! So it's definitely worth getting on a rafting trip, if you're the adventurous type.