Best Places to go white water rafting in California
Updated May 5, 2023
White water rafting is a scenic and breathtaking warm-weather sport in California. When the sunshine melts the snow on the mountains, it raises water levels, speeds up the current, and creates a thrilling activity for all ages.
But, if you're searching for "white water rafting near me" on your smartphone, the options might be overwhelming or confusing and the information just might not be current after the epic California winter of 2022-23 and the resulting snowpack. Here's a closer look at some of the best white water rafting rivers throughout California so you can get your thrill on from just about any corner of the state.
What do I need to know before I choose a rafting trip?
• Just about anyone can go since there are rivers for every level of experience.
• Different rivers will have varying classes of rapids, from Class I (the easiest) to Class V (the wildest and most dangerous).
• You can choose from a variety of trips, ranging from half and full-day trips to multi-day adventures.
• The rapids will be fastest in the spring, but some rivers have whitewater rafting year-round.
• Always pick a certified outfitter with a lot of experience.

Whether you're looking for a scenic float or some draw-dropping rapids to get your adrenaline pumping, there's a whitewater rafting adventure waiting for you on one of these California rivers and best of all some of the best places to go white water rafting in California are only a short drive away.
The 2023 Rafting Season is off to a great start! With the large amounts of snow in the mountains, rivers will be flowing at high rates and rapids will be very exciting in the early parts of the summer.
Northern California Whitewater Rafting
Lower Klamath River
If you're looking for white rating rafting for all ages in Northern California, the Lower Klamath River is an excellent choice. The nearest town is Happy Camp, which is about a 7-hour drive from San Francisco or just over 6 hours from Sacramento.
This picturesque river enjoys National Wild & Scenic status and is ideal for first-time rafters and families with young children. The rapids range from Class 2 to 3 along the 18-mile stretch, with plenty of nice beaches to stop at to enjoy this river.
Cal Salmon River
Assuming you want something a bit more exciting in Northern California, check out the Cal Salmon River. The nearest town to the river is Eureka, which will require about a 5-hour drive from either Sacramento or San Francisco.
Drive time aside, what you need to know about the Cal Salmon River is that it is incredibly challenging and even dangerous. Rapids can range from Class 4 to 5, and some runs are considered expert class, meaning you should have ample experience before going face-to-face with rapids like Freight Train and Last Chance.
American River Rafting also in Northern California
The majority of the American Rivers are dam controlled, meaning there will be water released no matter what, even in drought years. In years with lots of water, the American rivers have plenty of rapids and options to enjoy!
South Fork of the American River near Lotus, CA
2023 Update: The South Fork will have high water for the first part of the season. This means faster moving water, bigger rapids, and more fun! The age limit until the water drops, around early July, is now 12 years old. If you are an adventurous first timer or seasoned rafter, this spring will be the perfect time to go! For families with kids or those a bit more on the timid side, we recommend booking your trip in July and August.
If you search for "American River rafting near me," you'll likely get different results depending on your location. But a trip on the South Fork of the American River is one that is sure to please just about every age and skill level.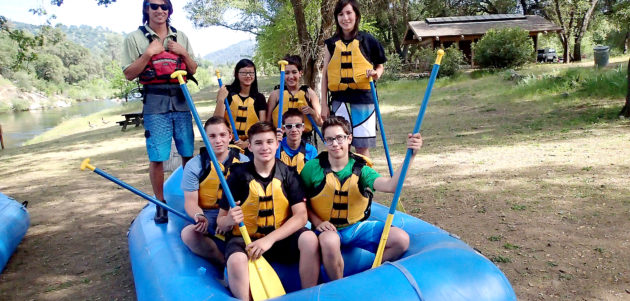 The launch point for the South Fork American is near Coloma, CA. It is about a 1 hour of driving from Sacramento and 2.5 hours from the San Francisco Bay Area, making it incredibly accessible. This is an 11-21 mile section of river that has some exciting class 3 rapids, but it is also considered acceptable for all experience levels and children ages 7 and up. There is even a section of white water rafting on the American River for the younger ones ages 4-7, our Young Rafters Adventure. A 2 hour bouncy float through the middle section of the South Fork American River.
Some of this river's signature rapids include Troublemaker, Meat-grinder, Satan's Cesspool, and Hospital Bar. There are half, full-day, and multi-day trips on this river with Private Camping right next to the river.
Middle Fork of the American River near Auburn, CA
2023 Update: The Middle fork is flowing too high to raft currently, and we are predicting the flows to be too high until early July. In the meantime, check out the South Fork at High water or the Class 4+ North Fork American.
Paddlers who are looking for a bit more white water excitement can check out trips on the Middle Fork of the American River. The launch point for this trip is also about 1 hour outside of Sacramento and 2.5 hours from the San Jose area. This 18-mile stretch of river has Class 3 and 4 rapids, some with steep drops and churning whitewater. In addition to the heart stopping excitement, you'll be treated to some of the most beautiful canyon scenery in the state.
Some of the memorable rapids you'll want to watch for include Kanaka Falls, Tunnel Chute, and Ruck-a-Chucky Falls. Trips on this section range from 1 day to 3 days, and the minimum age to participate is 12. Participants for the rafting the Middle Fork American river should be in good physical condition, know how to swim, and be on the adventurous side.
North Fork of the American River just outside Auburn, CA
2023 Update: This is the year of the North Fork! The flows have been great, and at times too high, but we are planning on running trips on the North Fork through the month of June.
Are you're looking for the ultimate Spring Time whitewater thrill in Northern California, book a trip on the North Fork of the American River. This is the most difficult fork of the American Rivers, and trips are only available during the early spring and summer.
You'll meet in Auburn, CA, which is about 45 minutes outside of Sacramento and a little over 2 hours from San Francisco. The length of the trip is 12.5 miles and, when you aren't paddling furiously or grinning from ear to ear, you'll be treated to views of gorgeous forested gorges.
A few of the unforgettable rapids on this river include Entrance Exam, Chamberlain Falls, and Staircase Falls. This is a full-day trip for advanced paddlers, and the minimum age is 14.
Can't decide between white water rafting American River middle fork and south fork trips? Try the American River rafting trip combo and combine them!
Merced River near Yosemite National Park
The Merced is known as the "Gateway to Yosemite," and its namesake river draws its water from the surrounding Sierra Nevada mountains. While the river flows through the heart of Yosemite National Park, there isn't any whitewater rafting within the park's borders, but just outside the Park, the Merced is ready to raft. This is still one Central California river that should be firmly on any adventurer's list.
The put-in for the Merced River Rafting is just a 3.5-hour drive from San Francisco and about 6 hours from Southern California. The best time for this adventure is from April to mid-July. Expect to experience Class 4 and 4+ rapids on this 16-mile run with memorable experiences named Ned's Gulch, Corner Pocket, and Split Rock, just to name a few.
Southern California River Rafting
Lower Kern River
If you live in Southern California and don't want to make the trip up to the Merced River (we still recommend it), the lower Kern River is closer. Located just northeast of Bakersfield on the southern edge of the Sequoia National Forest, this dam-controlled section of river serves up rapids ranging from mild Class II to wild Class IV during the early spring.
Whitewater rafting is exhilarating and fun, but it can also be dangerous. We strongly recommend hiring a guide for your upcoming adventure. Check out the available tours on the American River and Merced River with Whitewater Excitement or contact us today with any questions. It would be our pleasure to help you find the perfect white water river rafting trip near you.