Rains on my rafting trip? Oh no!
Rafting in the rain can be a super fun experience, as long as you are prepared and dress for it, and it is not a super cold storm or have thunder and lightning going on close by (these last 2 are very very rare in the spring time and not heard of in the summer).
Most days when there is rain in the forecast, it usually clears up quickly, and we see the sunshine before the trip ends.
However, there are days in the spring where it just flat out rains.  Going through the Gorge on the South Fork of the American river is a very unique and memorable experience, and when it is raining, it really adds to the adventure when the clouds get low and you can't see all the way down the canyon.  Most companies require guests to have wet suits on in the spring and when it is going to rain.  Most will rent them to you, but a few American river rafting companies will include these free of charge.  These wet suits will keep you for the most part warm, in and out of the water.  Actually, in the springtime especially, if it is cooler weather, the day feels warmer when it is raining vs. when the skies are clear. A good piece of personal equipment to bring are wool or pile/fleece socks to keep those feet and toes warm.
We all love to have temperatures in the 80's and 90's for our rafting trips, but sometimes, the weather just does not cooperate and it rains.  The best attitude to have is to make the most of it and have a great time.  You are going to get wet anyway from the rapids, so why not just embrace it!
 Most rafting companies will have a rain or shine policy that states that they operate their trips  whether it is sunny or raining, and they don't cancel their trips if it is raining.  I have seen some  companies raft during a snow storm, while the guests don't seem to be having that memorable of  an experience.  In my experience, however, most companies, especially on the American river,  will give you a rain check if the weather is going to be super cold and the chances of having  anyone get hypothermia are real.  We all take safety very seriously and want our guests to have a great time on the river, and not expose both our guests and staff to the elements just to make a buck.
So, if it is going to rain on your parade while you are going rafting, just embrace it and have a great time, your wet suit will keep you warm, and the trip will be super fun even in the rain!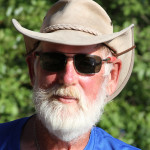 I hope that this helps, as always if you have questions about this  information, or have other  questions about river trips, please feel free to E-Mail me, I am always  here to help no matter  what  or where your river adventure is taking you.
Hope to see you on the river this year,
Flash (over 30 years of river rafting experience around the world and back)