When whitewater rafting, there is always a possibility of falling out of the raft. In this post, we talk about why people fall out, what to do if it happens, and how to prevent it.
How do people fall out of the raft?
Most people fall out by either the raft hitting a rock and them falling out, or hitting a big wave and the raft will tip on its side and someone will fall out.
What happens if you fall our while white water rafting?
If you fall out of the raft, don't panic! Your PFD (personal flotation device) will keep you on the surface, make eye contact with your guide and try to swim back to the nearest raft! Most importantly, make sure you do not stand up in the river. Keep your feet on the surface of the river, either in front of you or behind you.
Do people fall out whitewater rafting?
Yes, people do fall out sometimes. It is not very common, but sometimes it can happen.
What should you do if you fall off a raft?
If you fall out of the raft, listen to your guide. They will be telling you instructions on how best to get back to the raft.
How do you not fall out of a raft?
Paddle Hard! Make sure your feet are properly secured in the raft and paddle when the guide tells you. This is the best way to stay in the raft.
How do you stay in the raft when white water rafting?
Make sure the listen to the guides commands as you go through the rapids. There is a proper way to sit in the raft and to tuck your feet in, and paddling will help keep you stay in the raft.
Our Goal
It is the goal of most river rafting companies to keep all rafters in the raft through the big rapids. Rafts have places to hold onto if you need to. Also, most river rafting companies have secure places to put your feet to give you stability, and when you are paddling through the rapids, you will actually stay in the raft better. Lastly, there is also, believe it or not, a place to put your rear end, your touché! We call these 3 positions, in river rafting terms, the rafter's tripod – feet, rear end, and paddle. Keep these in place and working, and you will more often than not, not fall overboard in the rapids.
There are times, though, even when having a great rafter's tripod going, you still find rafters fall out of the raft and into the river. Don't panic though, you are wearing a commercially designed PFD (personal floatation device), we used to be able to call it a life jacket, but not a days, especially in California River rafting, we cannot. These PFD's have 4-6 buckles that tighten up around your body and give you a lot of extra floatation in the river. They do not keep you on top of the surface 100% of the time, but almost 99% or so. Just make sure when you go to the American river, or any river rafting trip that is, you keep your PFD tight and make sure that it is initially tighten by one of the guide staff. They know how to make sure it is at the right tension. If you loosen it up, the life jacket (oops – PFD) will float, but you will not float as well.
Safety Talk
Prior to getting in the rafts for a river trip, the guide staff will give a river safety and orientation talk that will cover what you need to do if you fall overboard in the rapids, we call this an OBE, out of boat experience. The shortened version is to get on your back with your feet high in front of you, facing downstream, so you can see you toes and try to relax. Never try to stand up in a moving river that is one of the most dangerous circumstances in any type of river experience. The PFD will float you high enough in the river to breath, and there will be rafts or safety kayakers nearby to help you out.
It can be fun
A lot of the time, guests come back from a trip where they have fallen out, and they say it was the highlight of their trip, but, our jobs as river rafting companies and guides is to keep you in the raft. A good question to ask when you are considering making a reservation for a rafting trip, is does the river company try to hit the rapids or rocks on purpose to knock guests into the river. I have seen this happen and shake my head in disbelief. Not with our company. Some guides say they get better tips if they toss their guests into the river. I would not choose that company! A very few river rafting companies on the American river have a safety incentive program, that rewards guides for keeping their guests in the rafts and having a clean run on the river.
We do, however, encourage our guests to float/swim some of the easier rapids on the trip, at selected rapids only. There is one rapid on the South Fork of the American river, called what else, swimmer's rapid. A small bouncy class 2 rapid with a big calm pool after it. A great experience for those who are up for it. We instruct them on when to go, what to do (again) and keep everyone close to be there for those who got in over their head. Most often everyone has a great time, and it is very good experience to have if you were to be an OBE in one of the big rapids.
Sometimes it happens
A river company or guide, cannot guarantee that rafters do fall overboard. Sometimes whole rafts will turn over (not very often though). As you take on more difficult rivers and rapids (class 3 is a good place to start for your first trip, class 4 is harder, and class 5 is the hardest, only for those with lots of rafting experience). A good guide to check out is the American River rafting guide, it will give you some pointers on how to stay in the raft.
Rest assured, most all California River rafting companies, will take your safety very, very seriously and have it their goal to keep all passengers in the raft during the rapids. River rafting in California, is one of the most exciting adventures that you can do, there is more danger for people on the drive to the rafting trip, than the rafting trip itself.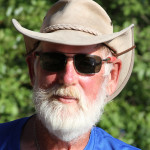 I hope that this helps, as always if you have questions about this information, or have other questions about river trips, please feel free to E-Mail me, I am always here to help no matter what or where your river adventure is to taking you.
Hope to see you on the river this year,
Flash (over 30 years of river rafting experience around the world and back)