I want to go rafting, but I can't swim!
Swimming ability is always recommended, but not required to go rafting on rivers such as the South Fork of the American river (unless we are in a High water situation where the river level is quite a bit higher than normal).  The big question that folks need to ask themselves is:  are they afraid of being in the water?  The South Fork has fun class 3 type rapids, which are exciting and fun but can be attempted by non-swimmers.
Some Rivers Require Swimming
When you step up the level of difficulty and go rafting on any river trip above class 3, then swimming ability is required. Most river rafting companies will not take non-swimmers on these types of trips.  We get asked a lot, especially by the group organizer:  our group has done the South Fork of the American and had fun, but we want to go rafting on a trip that is class 4 or 5.  Some of the participants cannot swim, can we still go rafting.  The level of participation also needs to increase on harder rivers and rapids.  All participants will need to paddle together through the harder rapids in order for the raft to safely negotiate them.  Well the answer, for the safety of the non-swimmer and everyone else on the trip, is unfortunately no.  Most river outfitters will not have folks on class 4 or higher rivers or rapids, that cannot swim, it is just not safe.
If You Fall Out
Falling out in a class 3 rapid can be a harrowing experience for folks that don't have much experience.  Falling out in a class
4 or higher rapid (not that we have that many fall out) can be a real harrowing experience.  We all wear PFD's (life jackets) that float you well in the river, but as you challenge higher and higher rivers and rapids, the ability to self-rescue (help yourself) becomes more and more important.
Our recommendation is to do a group trip with your entire group on the South Fork of the American.  Then after that, when you want a more challenging experience, just invite the members of your group that can swim, are very adventurous, and are up for a higher level of participation to go on the more challenging river.  Check out the American River Rafting Guide for more information on rafting and swimming.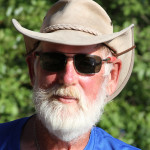 I hope that this helps, as always if you have questions about this information, or have other questions about river trips, please feel free to E-Mail me, I am always here to help no matter what or where your river adventure is taking you.
Hope to see you on the river this year,
Flash (over 30 years of river rafting experience around the world and back)