How many rafters are in this raft?
Most everyone that comes up for an American River rafting trip, want to raft together, of course it is way more fun. However, depending on the number of rafters that are in your group, you might be split up into 2 or more rafts.  Which in most cases 
is a lot of fun because the opposing groups can splash one another in the water fighting zones, sorry no big time wrestling in the rafts or taking of prisoners from the other rafts!
They can Fit a lot!
The rafts, at least those on the American river, one hour east of Sacramento, we can can fit rafters in the range between 5-8 plus a guide. He or she, sits in the back of the raft and steers the raft with help from the guests who use paddles to maneuver through the rapids.  I have personally seen 9 and 10 guests in rafts before on the river, and actually have taken a group of 9 rafters that just did not want to be in two rafts, even though I tried to tell them it would be way more fun?  Anyway, most American river rafting companies, especially on the South Fork of the American, will limit the number of guests to 8 in a raft.  We only use our 8 person rafts, nicknamed "Cadillacs", and specially designed by our owner for the raft manufacturer Hyside Inflatables, for families of 8 (or groups of 4 and 4) that want to raft together.  The other rafts that our company, and most other rafting companies, use are designed to fit 8 guests and a guide, but we limit those rafts to 7 guests plus a guide, as we think our guests will have a much better and safer time on the river with those smaller sized rafts.
Averages of 6
This  is what we tell folks when they make a reservation.  If they happen to bring  a multiple of 7 on the South Fork, then we will have 7 in a  raft. The Middle  Fork of the American river is a bit different.  It is rated  class 3 and 4, where  the South Fork is rated class 3 (it still has some great rapids and is not a  mellow float, though).  Usually when rafters come and tackle a harder  river, such as the Middle Fork of the American, the rafts are loaded with 5-  6 guests plus the guide.  Trips on the Middle Fork need  to take down the  lunch and drink supplies in the rafts, due to the nature of  the river where  there is only one place to launch and one place to take off the river.  We also need to take down a portable bathroom set up in the raft that is set up when we stop for lunch.  The other reason the rafts don't have as many rafters as the South Fork, is that rafting tighter, class 4 rapids is much safer, and easier for the guide to manage if it does not have a lot of rafters in them.  It also gives more room in the raft for the "Get Down" command that we sometimes use on class 4 and higher rivers. Rafting companies in West Virginia, for example, try for an average 8 rafters per raft.
We can accommodate Groups
A fun and exciting time can be had on any river with any number of rafters in the raft, as long as the rafting outfitter does not try to overload the rafts to make more money while sacrificing guest comfort and fun.  When organizing a group of family or friends to go rafting, keep in mind the difficulty of the river, when thinking about how many to invite.  You can always have more than the rafts hold, however, there will be some of the group that will be split off to another raft to raft with the dreaded "Strangers".  A great chance to meet new friends or you never know, maybe even a new wife or husband, we have had that happen also!  No matter what size group you have, come on up this year, the rafting is going to be great and the guides are waiting for you with baited breath.  Really, Flash?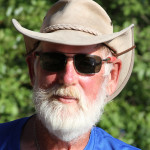 I hope that this helps, as always if you have questions about this  information, or have other  questions about river trips, please feel free to E-Mail me, I am always  here to help no matter  what  or where your river adventure is taking you.
Hope to see you on the river this year,
Flash (over 30 years of river rafting experience around the world and back)