White Water Rafting Classifications and Grades Explained
If you're searching for the thrills and excitement that comes from a white water rafting trip in California, you'll want to do a little research. Not only do you want to find a reputable company with seasoned experts who have the experience needed for a safe, fun paddle, it's also a great idea to have an understanding about what to expect as far as the river goes. Each river will have a white water rafting classifications of difficulty scale. This is something that you should know and understand before making your reservation.
Not every stretch of river is suitable for all paddlers. In fact, there is some whitewater that isn't even raftable for trained guides! So, before you sign up with friends and family for a day on the water, learn whether you'll have a leisurely float to enjoy the scenery or a wild ride suitable just for the experienced. Once you know what to expect in different sections of a specific river, you'll know if you're ready for the adventure ahead.
International Scale of River Difficulty
To make white water rafting classifications easy for rafters and explorers to know about a certain white water rafting river, all rivers are given certain classes, or grades. This will easily categorize the size of the river, rapids, and technical level. There are six white water rafting classes and grades of difficulty, with the most gentle flow being I and the most intense ranking as VI. This is known as the International Scale of River Difficulty.
For some rivers located in the Southwestern part of the USA, for example, the Colorado River through the Grand Canyon, it's slightly different with a Western Scale from class 1 to 10.
Different Sections of a River have Different Classes
There are also different sections of every river, so some areas or forks may be ranked as a higher class or grade than other parts of the same river. This will depend on the nature and make up of the section. Is it a very steep section, does it have lots of boulders that need to be maneuvered around?Working with an experienced guide will help you feel comfortable on the entire run of white water.
Not all classes are suitable for river rafting. But with an appropriate raft, equipment, and an experienced guide, many of these rivers can provide a lot of fun. Here's an insider's look at some of the best white water rafting rivers in California.
Middle Fork of the American River
One of three forks in the American River in Northern California, the Middle Fork American river is considered some of the best summertime white water rafting in California. Just a couple hours from the Bay Area, the Middle Fork has sections that are Class II, Class III, and Class IV. On the Lower Middle Fork, it's gentle and perfect for families with children as young as 4. The upper section, is class III and IV, and you can expect big, steep rapids. This section is for the more adventurous paddlers who are in good physical condition and on the adventurous side. Swimming ability is required and needed for this stretch of the Middle Fork of the American river. Paddlers will have to work together to navigate the steep drops through narrow runs.
Rapids on the Middle Fork fall into many different white water rafting classifications. You can pick and choose which section of this river to raft depending on the level of adventure in your group.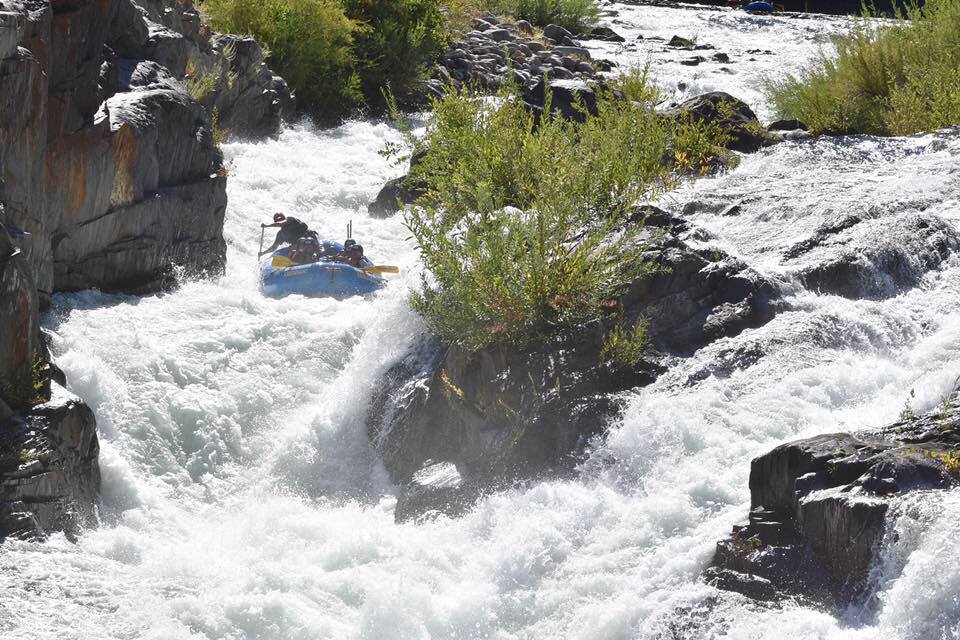 The river's infamous "Tunnel Chute Rapid," blasted by gold miners in the 1880s to divert the river around and into Horseshoe Bend. This is a Class IV rapid that's a super fast 100′ chute that drops into a long underground tunnel. Don't worry though, the tunnel is big enough to drive a bus through. Another Class IV steep drop is "Kanaka Falls," experienced a little later on during the trip. Lower down on your river rafting trip on the Middle Fork American, you'll come to "Chunder Rapid," an 8′ drop between some large boulders. Then it flows right into 'Ruck-a-Chucky Falls", which is so steep that guides must portage the raft around the 25 foot falls. The exciting, heart-pounding run then finishes with a Class IV stretch that has one rapid after another. On this stretch, you can also enjoy the pine forests along the bank, and the beautiful canyon that you will float through. It's best for paddlers over the age of 12 who are intermediate, or at least ready for an awesome river rafting adventure.
South Fork of the American River
The 14 mile Gorge Run Trip is a popular tour, in part because this Class III section is a little more accessible to families and all kinds of groups. Not far from Sacramento, the South Fork will get you bouncing with some Class III rapids but also provides plenty of opportunities to get out and swim. The Gorge itself has a lot more action over the six miles of rapids, with narrow, challenging sections of white water excitement. Hang on with some of the rapids, like "Scissors," "Hospital Bar," and "Satan's Cesspool."
Class III rivers and rapids, like the South Fork American river, are for those ages 7 and older. A two-day exploration of the South Fork is possible and includes camping out right next to the river. The Upper, Chili Bar Section of the South Fork is a bit more technical. Here paddlers can experience the Class III rapids like the "Meatgrinder" and "Troublemaker Rapid."
Merced River
For some surprising action, check out an early-season trip with gushing, melted snow that makes a huge Class IV splash on the Merced River. You need to be in excellent physical shape and older than 14 to safely navigate these rapids. These 16 miles of rapids are fast and furious, requiring previous experience or at least a big taste for thrills. This is big water, especially through the "Narrows" on to "Split Rock," which fires so much that even our guides are always super focused.
Kaweah River
If you're in Southern California near Three Rivers in the springtime, you may think you're up for the challenge of the Kaweah River. This Class IV+ rapid is a rollercoaster, especially as the snows are melting. This can prove a serious challenge even for technical and advanced paddlers, as the 10 miles of the river's lower section has lots of narrow sections and massive boulders that serve as obstacles along the way. For expert paddlers, the upper six miles will get the heart racing, guaranteed.
Cal Salmon River
For even bigger whitewater, Cal Salmon River in Eureka is some of the most wild Class IV and Class V in California. This run includes Class V rapids like "Cascade," "Last Chance," and "Freight Train Rapid." It's not for the faint of heart, and it's not for the inexperienced, either. This is one of the most technical runs in California. The only bigger class is Class VI, which often include waterfalls. Niagara Falls is one!
What Class is Best for You?
When considering a day or overnight white water rafting trip, you'll need to weigh a number of factors to determine which river and class is right for you. Only certain sections may be appropriate for you, your family, or your friends. It's best to do your homework on the white water rafting classifications. Here are some questions to ask:
How comfortable are you with adventure? If a steep drop would upset you, stick to lower classes for more fun.
What is your fitness level? Higher grades do demand more stamina.
Are you comfortable in the water? You need to be ready for conditions that are slightly stronger than expected.
What ages are the folks you are inviting.
Do you know how to swim?
Working with seasoned guides who know the rivers and rapids will help you feel more confident in your decision. They'll be able to ensure you've got adequate safety equipment, proper rafts, the experience, and important information about each run. The more you understand what to expect by understanding the different classes, the more you'll want to check out some of the best American river rafting, right here in California.