Two wonderful summer rivers
These are both great rivers to raft near Sacramento, each one has different characteristics and rapids. There are differences, however, in rafting the South and Middle American river. Both have hydro-electrically controlled releases, meaning there are reservoirs that have stored water upstream from the river run and are able to generate hydro-electric power. This release is also intended for recreational purposes, which is great for rafting, kayaking, fishing, and many other activities that happen along a river. These releases make it possible to raft all summer long even when we are experiencing a terrible drought here in California.
The river rafting scale is from Class 1-6 (which we will explain more in a later post), with 1 being the easiest and 6 being mostly un-navigable except for the most advanced rafters and kayakers.  In its 21 mile length, the South Fork of the American is the most
popular river rafting section east  Colorado.  The river is broken up into thirds.  The first third, the Upper or  Chili Bar section is 6 miles long and has continuous class 3 rapids that are  super exciting.  The river then goes into the middle third, the calm and  mellow section.  This is the section that we have our Young Rafters trips  for kids as young as 4 years of age.  Mellow and bouncy rapids make up  this mellow middle section.  The final third of the South Fork is called the  Gorge section. 7 miles of one class 3 rapid after another all the way down  to Folsom Lake, the ending point for the South Fork.  There are many  places to begin and end a rafting trip, from County run launching areas to  private lands that only can be accessed by permission. The South Fork does offer a wide variety of different trip options from morning or afternoon 1/2 day trips for those short on time, to one day Gorge or Chili Bar trips, to All Day – Whole River trips that raft the entire 21 miles in a single day.  2 Day trips are also very popular on this river. The South Fork is located near Coloma, Ca, where gold was first discovered in 1848 in California, and started the famous California Gold Rush. You can see gold seekers most everyday trying to strike it rich!
Which means it is mostly class 3 with about 6 class 4 rapids spread out through the day.  The Middle Fork even has a class 6 rapid called Ruck-A-Chuck Falls, which is portaged (walked around and not rafted).   The river is 18 miles in length and takes about 5-6 hours to raft, including a lunch stop.
 The Middle Fork has one place to launch and one place to take off the river making it a beautiful remote river trip that does not have homes along the river.  There are only one or two day trips on the Middle Fork, no half days due to the above nature of the access. The Middle Fork has more of a wilderness feel than the South Fork, you are truly out in the boonies on this river rafting trip.
The question that we get asked most often is which one of these river should I raft with my family or group.  The answer that we give is:  if your group has beginners that are not super adventurous, are non-swimmers, or have kids younger than 12, then we recommend rafting the South Fork of the American River.  There are actually more overall class 3 rapids on the 21 mile section of the South Fork than there are class 3 and 4 rapids on the Middle Fork.  If you have a group that has experienced rafters or adventurous beginners that are in good physical condition, good swimmers, and want a higher thrill level, then I would definitely recommend rafting the Middle Fork of the American.
Why not both?
The best way to see both rivers in a single trip is the Comb Trip.  This is a 2 or 3 day trip that rafts the South Fork the first day (or two) and then rafts the Middle Fork on the second (or third) day.  One of the best American river rafting trips that is available.  Rafting, camping, and great meals all in a 2 or 3 day package, also a great value.
There are some differences in rafting the South Fork and the Middle Forks of the American river, as outlined above. So no matter which American river rafting trip you choose, you will not be disappointed, both have super fun rapids and beautiful river canyons.  Why not call you favorite river rafting company and get on the river this spring or summer. Rafting is a great summer get a way that everyone can enjoy.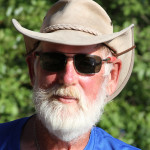 I hope that this helps, as always if you have questions about this  information, or have other  questions about river trips, please feel free to E-Mail me, I am always  here to help no matter  what  or where your river adventure is taking you.
Hope to see you on the river this year,
Flash (over 30 years of river rafting experience around the world and back)