What is the youngest age for whitewater rafting?
The question always comes up – what is the youngest age for a whitewater rafting trip in California. Whitewater rafting is a fun, exciting adventure for most all ages, especially on the American River.  There are a number of sections on the South Fork of the American, one for each age group. One of these, we call our Young Rafters trip.  It is great for kids in the 4-7 age group range.

For The Youngest (ages 4+) Rafters
The youngest age for whitewater rafting on the American river is 4 years old. The section of river we take the Young Rafters on is from Coloma Gold  Discovery State Park to the WWE camp.  It is a 4.5-mile journey that consists of mainly class 1-2 rapids with one class 2+ rapid called, Barking  Dog.  None of these rapids will toss anyone overboard, as we make these trips super safe for the little ones.  There are times to just relax and float down the river, other times we will be crashing through small rapids and getting soaked, and still others times the young ones can hop overboard and float with the mild current.
The next age group would be the 7 to 11 range of kids.
This age group,  as long as the younger ones are not too small in size or too timid, can raft the class 3 rapids of either the Gorge or the Chili Bar section.  The only couple of factors for this age group would be the level of the water, if it is on the higher side after a big snow year, then we would push the age limits up to 12 years of age.  The other factor would be the 7 and 8-year-olds.  If they are active and good swimmers, they would be fine.  If they are on the timid side and not adventurous, then I might wait until they are a bit older to take them down the class 3 rapids and start on the Young Rafters section.
Lastly, are our older kids groups.
12 and older are eligible for a class 3/4 river such as the Middle Fork of the American. Especially if the 12-year-old has rafting experience on class 3 whitewater or is on a two-day trip that rafts class 3 the first
day, like our South / Middle 2 Day combo. Our higher class rivers that have a class 4, 4+, or 5 designation requires kids to be 14 for the class 4 and 16 for the class 4+ and 5 rivers.  These are rivers that have really big rapids for the entire run and should not be attempted by anyone younger that 16.
River rafting outfitters all over the country abide by similar age guidelines for their guests. We recently spoke to Brandon Lake of Western River Expeditions, a Grand Canyon rafting company, and he agreed that four or five is the cutoff they use for slow rapids on Green River and the Salmon River.
International Rafting Options
The same age guidelines generally apply even for international rafting companies that operate on all kinds of rivers in multiple countries across the world.
Rafting with your kids is such an awesome experience for both parent and child.  If you add the overnight camping as on a two day trip, it is even more rewarding for all participants.  Nothing gets a family, mom/child, or dad/child closer together than a trip to the outdoors such as an American River rafting adventure.  To choose the best trip for your family, use the above guidelines and call your favorite river rafting outfitter.  Also, you can look back a few posts and read about How to choose a river rafting outfitter that is best for your family.  That's it for now; hope to see you on the river this spring or summer.
Have fun and be safe!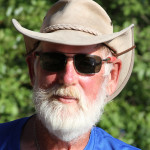 I hope that this helps, as always if you have questions about this information, or have other questions about river trips, please feel free to E-Mail me, I am always here to help no matter what or where your river adventure is taking you.
Hope to see you on the river this year,
Flash (over 30 years of river rafting experience around the world and back).