Bring home photos of your favorite adventure
Have you ever gone on an adventure but not been able to capture any photos of the memorable moments that you experienced? Well this time, don't worry- the professional photographers located at various major rapids on most river trips are here to do just that. They take great rafting photos of you and your crew so that you can enjoy the action-packed whitewater and walk away with unforgettable memories and the pictures to back them up.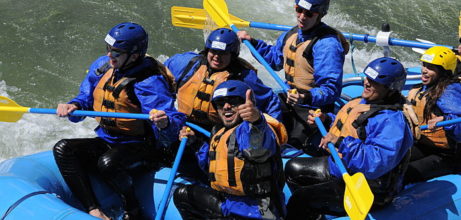 Rafting photos are taken at the most exciting rapids!
Usually, you'll see photographers at the most exciting rapids along the river capturing pictures of people having tons of fun in their rafts. They may even snap a shot of someone falling out of the raft- these 'bloopers' often end up being the most popular pictures to see.
On the South Fork of the American river, for example, there are three different rapids that the whitewater rafting photography company Hot Shot Imaging captures. These exhilarating rapids in order of sequence are dubbed Troublemaker, Satan's Cesspool, and my personal favorite, Hospital Bar.
On the Middle Fork American River, photos are taken at 2 of the bigger rapids, Tunnel Chute and Chunder.
Modern River Rafting Photos taken by professional Kayaker
On other rivers, like the Middle Fork of the American river, accessibility may result in there being just one "photo" rapid where rafting pictures are taken. In just the past 10 years, these photography companies (please see the Insider's Guide to the American River for more info on the photo companies and cameras) have begun to employ kayakers to take the photos themselves or kayak down to the rapid and grab the full memory card from other photographers. They then kayak out to an awaiting shuttle car and take the card back to the office so that guests from the rafting trip can view their excitement-filled photos at the end of the day.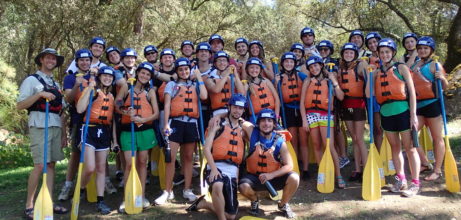 During a sequence of one rapid, photo companies usually take anywhere from 25 to 75 shots of each raft going through a rapid. More pictures taken generally means more excitement was had- or that someone fell out of the raft, or even that the entire raft flipped over! The latter, of course, very rarely occurs when you're rafting with a professional outfitter.
These memorable photos are sold either on a memory card or via a cloud photo sharing service. Long gone are the days when regular film was used- back then, photographers would rush back to their lab, process the film, and make actual prints for purchase right then and there.
How much do these Photos cost?
Your rafting photos are fairly inexpensive to purchase, especially with everything being digital and the existence of many helpful sharing apps. A typical rapid sequence of one raft ranges from $30 to $50, and the same raft in two different rapids costs slightly more. If you are in a large group, you can always talk to the photo company and see if you can get a discount.
River Rafting Photo Shows
If you are able to go on a multi-day rafting trip, you can raft two different rivers in two days! As part of your overall river rafting package, you can have photos taken from many different rapids- especially with American river rafting. These three rivers offer a range of options from mild to wild, from beginner to veteran, for families with younger (and older) kids. A few companies even offer rafting photo shows after dinner of you and your group taking on some very exciting rapids on the first day of your river trip.
How do you order your photos?
That is a great question. In the "old" days, you would head to the office and hope that they had the film ready for you to view the photos through a very small viewfinder. On some rafting trips, you could only obtain a flyer and would have to call the company once you returned home. Then, you could request a contact sheet of very small "mini" photos with a watermark. You would be able to pick out a photo or two and order 5×7's or 8×10's. Nowadays, all you need to do is go online to our website, click Your Photos, and order the digital file so that you can view them right on your computer! And if you want to make a collage or print a large poster, simply upload the photo(s) to Costco or Sam's Club and pick them up the next day!
Take only Memories – leave only Footprints
This is the motto of most National and State Parks. A photo record of the activities you've done and the trips you've taken provides an easy and fun way to remember all the good times you've had with family and friends. I still have a great time going back and looking at all the rafting photos that I have either taken myself, or have gotten from various professional photo companies. Boy did I look a lot younger in some of those!