When many of our guests hear about class 4 white water rafting, they might feel intimidated. If you dont know the river classifications yet, be sure to check out our rafting classification post. In this post, we'll explore what class 4 whitewater rafting is and why anyone can do it on their first time on the river, Especially with us at Whitewater Excitement. With over 40 years of professional rafting experience we'll make sure you're in good hands, having fun the whole day!
What are the different classes of whitewater rafting?
There are 6 different classes of whitewater, ranging from Class 1 to Class 6. These classes (also referred to as grades internationally) are determined by the difficulty and river features. You may also see the use of roman numerals, such as Class 4 written as Class IV.
Requirements
What are the requirements?
While most people can raft Class 4 rapids for their first time, there are several requirements. The minimum age to raft Class 4 rivers, depending on the river and company, is 12-14 years old. Many Class 4s recommend that you are in good physical condition, on the adventurous side, and know how to swim. You can check out our Insider's Guide to the American River, it is packed with great information that will help in the planning of your trip. Some other rivers require strong swimming ability for each participant. The best thing to do is call the company you will be rafting with and ask what the age limit is and if they have any requirements.
Are Class 4 white water rapids for adventurous beginners or advanced rafters?

Whitewater rafting can be an amazing experience no matter how difficult the rapids are. Between the deep canyons you will experience, the great meals, and the thrill of the wild, whitewater rafting checks most of the boxes of a must-do adventure.

Those willing to step out of their comfort zone and add extra excitement while rafting can test their skills on intermediate-rated class 4 rapids. Read about whitewater rafting rating and classifications. These rapids can be done by those who have never rafted before and those who have a long list of rivers completed. Below are several of the different experiences you can expect to encounter while Class 4 whitewater rafting.
What do I need to know before rafting Class 4 rapids?
Before stepping foot in the raft prior to the rapids, make sure to take a look around your environment, and you might feel awe. Some River trips, like the class 4 Middle Fork American river canyon outside of Coloma, CA is 1.5 hours from any city, 1,000 feet deep in a remote canyon. Before other rivers, like the class 4 -4+ Merced River in Yosemite National Park, we drive past the biggest rapids this river has to offer, and maybe the biggest you have ever seen! Shaky hands while bucking your life jacket and glances at all the other people taking on this adventure are normal experiences.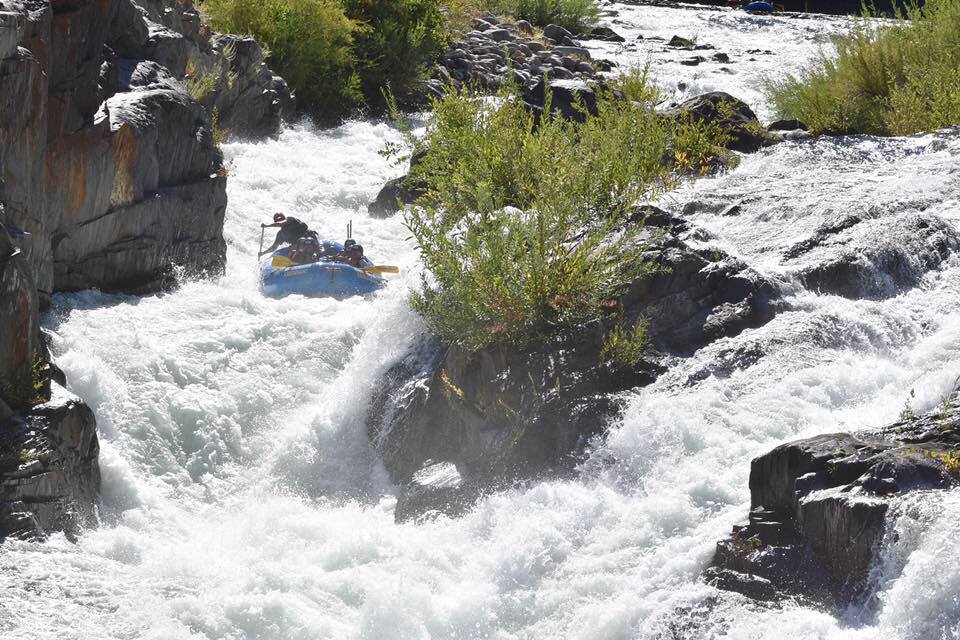 It's time to tackle the Class 4 Rapids
Will the guide give a safety briefing before I go on a class 4 rapid?
Before the large class 4 rapids, and many of the class 3 rapids, each guide will take time to brief their crew on what to expect when taking on these rapids. They will go over what paddle commands will be called and remind you of the safety briefing in case anyone was to fall out. These talks can help calm the nerves, or increase the anxiety, but will inform you on your job and get you ready for the rapids.
How does it feel rafting Class 4 rapids?
Exciting. Terrifying. Wonderful. While feeling one or several conflicting emotions amidst Class 4 rapids, you will be sure to feel something. There are different types of Class 4 rapids. During some rapids you will be paddling your hearts out. Others you will be sitting on the floor holding on to a safety handle just watching and enjoying.
What do I need to do while river rafting Class 4 rapids?
You will be asked to paddle through most Class IV rapids. This may be difficult when water is splashing you and the raft is leaning one way or anther, but rest assured every little bit helps.
During other rapids, like the famous "Staircase Falls" on the Class 4-4+ North Fork American, some guides will ask you to "Hold on" for part of the rapid, as it may be bumpy. Each raft is equipped with handles in the middle of the raft for each person to hold on to when instructed. While holding on you are able to see the whole rapid and even glance to see how your friend next to you is doing.

No matter if you are paddling or holding on, you will be be experiencing unique feelings. Getting tossed from left to right drenched by water, and watching house-sized boulders pass right by the raft are not normal everyday experiences. They can cause many different reactions and emotions that most don't know they will feel until it happens. These rapids can last from only a few seconds to over a minute, but are sure to keep your heart beating faster much longer afterward!
You might get hungry
Will I get lunch on a Class 4 rafting trip with Whitewater Excitement?
You will probably work up an appetite during a full day trip like the Class 4 Middle Fork American One Day Trip. All the paddling, holding on, and laughing are sure to make anyone hungry, and our lunches on the river are made differently in order to help with that. Our lunches are made with fresh and plentiful options for vegans, vegetarians, and those who eat anything. This meal and 45-minute break on a sandy beach will refuel the body and energy levels because there are more rapids just downstream…just as soon as all the cookies and fresh watermelon are eaten.
Will there be photos of my rafting trip?
There will be photos taken during the day at two of the major rapids, Tunnel Chute and Chunder from a local photography company. To learn more about photos check our Rafting photos blog.
There are a lot of Class 4 whitewater rafting experiences to choose from
The end of a full day of whitewater rafting class 4 rapids will have people feeling accomplished yet sad that it is over. Luckily, California has many Class 4 rivers that are raft-able the entire summer, so there are plenty more days to head back to the river and get back at it! Each day on the river is a little bit different, but it is an experience that will not be forgotten!
Our recommendation for beginners tackling their first class 4 white water rapid is our Middle Fork American One Day Trip
See you out on the River!
Phillip Schoenhoff, President