What's it like to run a class 4 rapid?
Try river rafting on the Middle Fork American river this summer, it has many class 4 rapids mixed in with class 3, all in one of the most beautiful canyon settings in California.
The answer to this question is in the video below.  If a picture is worth a 1000 words, then a video is worth 10,000 words, so I won't write too many here.
It is one of the most famous rapids in all of California if not the USA. It is actually a man made rapid that was blasted out by the gold seekers in the 1880's.  They wanted to mine a section of river that formed a horseshoe, but needed to divert the river away from the area.  They decided to blast a tunnel through the mountain and then blast a diversion chute ( namely the Tunnel Chute) to have the river go through the mountain and dry out the horseshoe.  Which they did and mine lots and lots of gold!
They created, unknown to them, a rapid that thrills thousands of rafters each year.  Our first trip through the Tunnel Chute was back in 1985, and it was certainly a thrill then , and still is today.  Enjoy this short teaser clip of the rapid.
Come and Raft!
Let's go and get on the Middle Fork of the American river to see and experience the full version!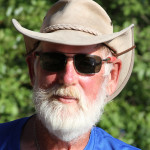 I hope that this helps, as always if you have questions about this information, or have other questions about river trips, please feel free to E-Mail me, I am always here to help no matter what or where your river adventure is taking you.
Hope to see you on the river this year,
Flash (over 30 years of river rafting experience around the world and back)